Note: not a fetish site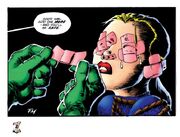 Welcome to the AnimeTears Wiki
Edit
This is a wiki for documenting scenes in anime (and other cartoons) and manga (and other comics) where characters cry for various reasons. Perhaps due to happiness, pain, sadness, or even cutting onions. So long as moisture comes from the eyes, it is on topic. Every series and character can have pages here, the idea is to explore every moment of waterworks.
Sometimes crying scenes can be more subtle from others. It can range from dramatic "dying in waterworks" kinds to subtle welling up or quivering of the eyes that directly precedes crying
Ad blocker interference detected!
Wikia is a free-to-use site that makes money from advertising. We have a modified experience for viewers using ad blockers

Wikia is not accessible if you've made further modifications. Remove the custom ad blocker rule(s) and the page will load as expected.